GO BACK TO MYSTERY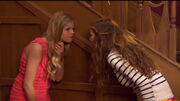 i think for our fanon wiki we need to start going back to the mystery it
what HOA is about. it is so boring when its just dating and everything. make like sam bad or look at my new girl post it is about rufus hireing a girl to spy on them. you can keep doing the romance and stuff but bring back the mystery.
Ad blocker interference detected!
Wikia is a free-to-use site that makes money from advertising. We have a modified experience for viewers using ad blockers

Wikia is not accessible if you've made further modifications. Remove the custom ad blocker rule(s) and the page will load as expected.